SENTENCE ME TO DEATH
In-Situ, Performance
2019
Burn Me, Arrest and Discern Me, Sentence Me to Death
Standing against the black-grey granite walls of
Vraca Memorial Park
in Sarajevo, with a piece of piece of red fabric drawn up over my body, face, and stretched between my arms - I recreate "Žena borac" monument and draw attention to the figure of
Radojka Lakić
as a heroine, who – like many other women – actively participated in the
antifascist liberation of the city.
In the photograph, "Žena borac" statue is reevoked by raising two fists, mimicking the statue's original stance.
The imprint my face is visible through the fabric and is reminiscent of the angular features of the monument. In the resulting image, the
tattoo of the word "Ništa"
(meaning 'nothing') is visible on my right wrist.
The action not only draws attention to the continued absence of the statue's right arm but is also testimony of the difficulties of gaining progress in the fight for women's rights in the contemporary BiH.
Photo Documentation: Elodie Grethen
Bosnian Girl 2
In-Situ, Performance
2017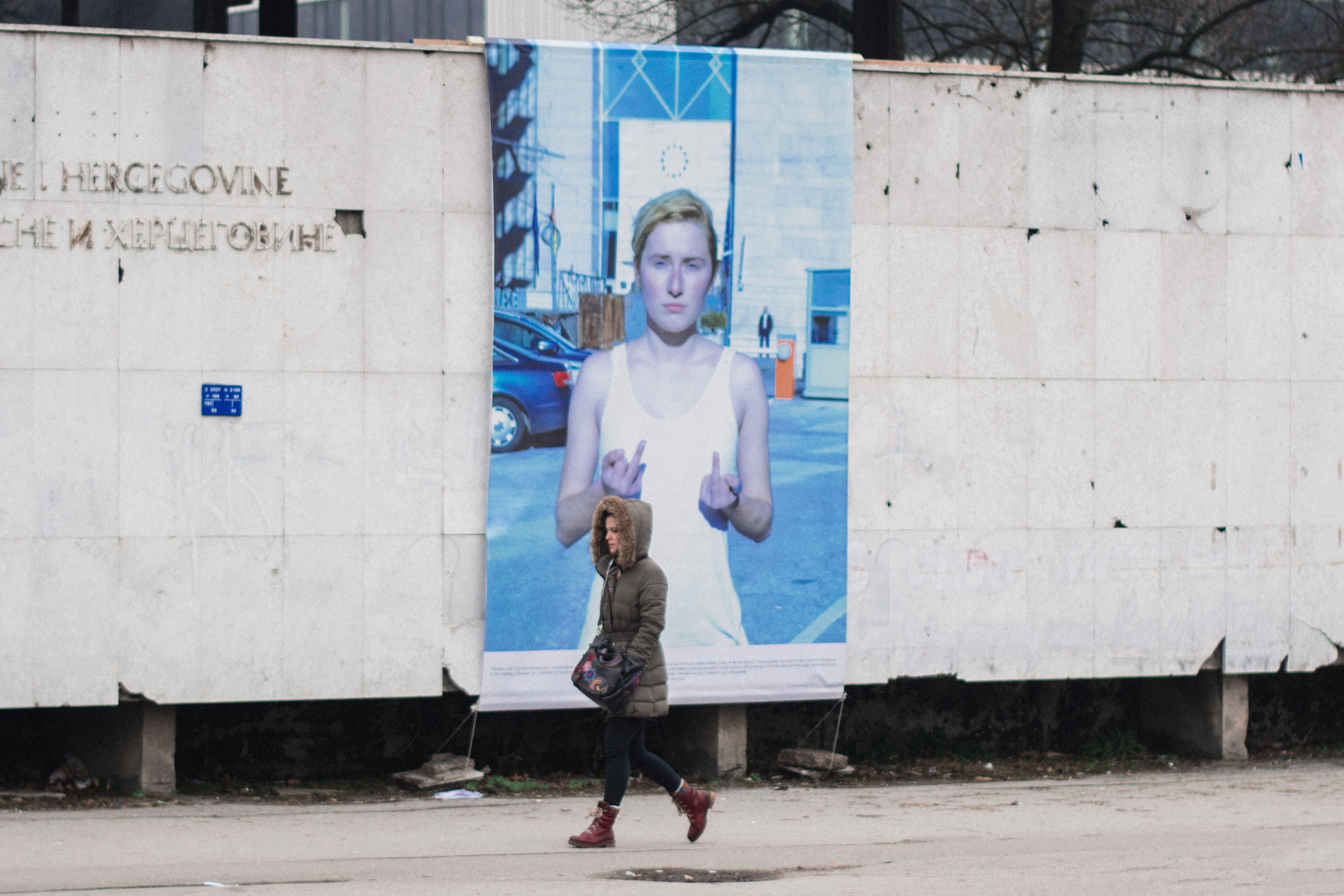 "Bosnian Girl 2" is a performative action that I conducted in front of the EU Delegation to Bosnia and Herzegovina building in Sarajevo on 22/11/2017, the day when the
late verdict for the war criminal Ratko Mladić
, responsible for genocide in Srebrenica— was delivered by the UN Tribunal.
More than 8000 People were brutally murdered in one single day during the
genocide
in Srebrenica, Bosnia and Herzegovina, 1995.
The work "Bosnian Girl 2" holds a reference to the poster "Bosnian Girl" by the Bosnian artist Šejla Kamerić in 2003.
The work is a part of the collection of the most significant post-war bh. contemporary art
"The Sarajevo Storage"
by Pierre Courtin, and has been exhibited both regionally and internationally; including the
Museum of History of Bosnia and Herzegovina, National Gallery of Bosnia and Herzegovina, Museum of Contemporary Art Zagreb, Royal Institute of Arts Stockholm, Festival FK:K Bamberg, Mainoeuvre Gallery Berlin, Art Fair Tblisi,...
Photo Documentation: Simone Morciano
Someone Washed My Face
Enlarged Passport Scan
2018
Welcome to Paris
In-Situ, Self-Portrait
2019
Living Room Situation and Installation. I have been searching for a possibility to leave Bosnia and
immigrate to Europe
for the past five years, constantly surviving on the edge; without a working licence and depending on minimal art grants and hospitalities of various art residencies.
I've gotten an opportunity to work on my art in Paris, but I couldn't afford Paris - so I've searched for a place to stay
for free
, over the network of my friends and lovers. This was quite easy, since I am a white, blond, female contemporary artist.
I ended up being hosted by a local family inside a villa in the
luxury 16th arrondissement
of Paris. The person inside the tent with me is my lover, whose family has shown immense hospitality and to who I am deeply grateful. He, on the other side, doesn't feel at home in this home, neither. We both slept in this tent, during my stay.