our family garden II

An ongoing work series within which I question the relationship of the post-war ecosystems (Naturecultures) with memory, by creating a new form of monuments – collective organic monuments. These monuments are situated as medicinal plant gardens, co-created through a collective, citizen-inclusive performances and made sustainable through the long-term collaboration between humans and plants.
COLLECTIVE INTERSPECIES RITUAL


The work consists out of a collective ritual within which 100 female participants plant 1000 calendula plants inside of the abandoned war trenches surrounding Sarajevo (August 2021). Firstly, these female volunteers were commemorating the dead soldiers, their husbands, children, brothers – who lost their lives defending Sarajevo during the siege, on the First Line of Defence (1992-1995). At the same time, they were planting seeds for the women-empowered futures in which the all-female collective "First Womens´Line of Defence" becomes a key for transforming the socio-ecological collective trauma.

Landscape is as important as humans – which is why the medicinal plant Calendula (which is traditionally used to heal wounds) aims to reconstruct the microbiological life as well within the soil, while attracting insects. In this way, the abandoned zone of the war trenches becomes a garden, curating a new, future-oriented behavior of citizens, promoting care and interspecies collaboration.

The artwork directed and performed by Smirna Kulenovic, produced with the support of KUMA International and the City of Sarajevo.

"By digging these war trenches we are digging through history, and at the same time, we are planting new history."- Natalija*, (28)
*Natalija is a participant who supported Bosnian women by coming from Belgrade, Serbia, to take part in the performance
RITUAL PLACE: AN ACTIVE FORCE
FRAGILE LIMINALITIES
The location of the performance, the space of the planting ritual is not just a backdrop - it is a vivid actor itself. Situated exactly on the border between two entities (Republika Srpska and Federation BIH), as well as a border between a mountainscape and cityscape, the liminality of this space is not necessarily passive - it becomes a lead actor to whom human actions are but a response. This place is not a mere empty or passive receptacle. It is not just the context or backdrop of action but rather a force that forms actions and actors. The ritual operates in an environment that is simultaneously biological, geographical, social, political, historical, and cultural. A ritual's environment is the totality of whatever surrounds it and interacts with it.
"My grandmothers' house, where I've lived with my family during the war, is just a 5 minutes walk from this location. During all 4 years of the siege of Sarajevo, my grandfather went up to these trenches to defend the city, as well as us. These trenches were also the first "picnic" spot of my childhood, where my grandmother used to take me out, right after the war ended. This location is still forgotten, abandoned and stands haunted by stray dogs, marking another invisible monument."
- Smirna Kulenovic
ORGANIC MONUMENT
LANDSCAPE, MEMORY, INTERSPECIES COLLABORATION
Our Family Garden" is the First Organic Monument in Bosnia and Herzegovina.* This new form of monumentality allows a changed perspective on dominant fascist memorialisation techniques and monument-building strategies currently actively shaping the relationship between people, landscape and history of Bosnia and Herzegovina. An organic monument is a temporal form, whose existance depends on interspecies collaboration. It is created upon human interaction with their landscape - in a temporal, collective performative action, engagin the local community and species, activating their care for the future of the environment, as well as history.
The organic monument takes upon itself the duty of "talking" about the past, present and the future. There are no "human language" narratives surrounding the space, but instead the medicinal Calendula plants become agents of communication, creating their own narrative. Planted inside of war trenches, they allow the transition between a traumatic past and new possible futures to unfold. In this way, we let the plants "talk" - instead of manipulative human ideologies. Because of their characteristics, they re-seed themselves again for next season as act as forces of change within the design of the monument; expanding it to unpredictable spaces, as the seeds are carried by the wind and water through the landscape. The organic monument also heals the landscape, by introducing new plant species, adding nitrogen back into the soil, allowing more biodiversity both for microbial, plant, insect and human communities surrounding it.
*(Confirmed on the Project´s PRESS Conference in August 2020 by the Mayor of Sarajevo, prof. dr. Benjamina Karic).
NATURECULTURE ASSEMBLAGES
MICROPERFORMATIVITY OF TRAUMA
OUR FAMILY GARDEN II
Found Assemblages
War-related metal objects (remains of munition and protective clothing) entangled with soil, remains of plastic bags used for war-trench construction entangled with plants/soil
-
Excavated during the process of preparing the soil for our first medicinal herb garden inside of the abandoned war trenches on the First Defence Line of Sarajevo (Zlatiste, FBiH). These objects are analyzed as complex entanglements, Natureculture assemblages - bringing together conflict history, geography, politics and ecology. In the 2nd phase of research, I will conduct a microscopic analysis of the microperformativity of various life-forms emerging from these entangled assemblages and their different materialities, as well as the soil excavated from this location.
SELF-SEEDING: CALENDULA OFFICINALIS
PLANT AS AN INTERFACE FOR SOCIAL-ECOLOGICAL HEALING
The choice of Calendula for the first season of "Our Family Garden" is essential: Calendula is a self-seeding plant that heals human wounds, as well as the soil it grows in. Calendula's name derives from the Latin
calendae,
referring to its long blooming season—in certain locales it is said to bloom nearly every month of the calendar year. The species name,
officinalis
, refers to its historical use in apothecaries and pharmacopeias as the official medicinal species of its genus.
Calendula flower is widely used as a medicinal plant whose
antibacterial, antifungal, and anti-inflammatory properties
make it a strong ingredient for healing of humans. In addition to using whole petals, Calendula flowers can be ground into powder or made into oils, creams, and ointments. It has been used for centuries across different cultures, both internally and topically, to heal wounds, burns, and rashes. Specifically, my research deals with Calendula in ancient
Slavic ethnobotany practices and rituals
, examining the potential of collective garden-making and medicine-making rituals done with transgenerational healing methods, using local medicinal plants. Through a series of workshops with local participants, I also collected and created healing oil out of Calendula petals picked inside of "Our Family Garden."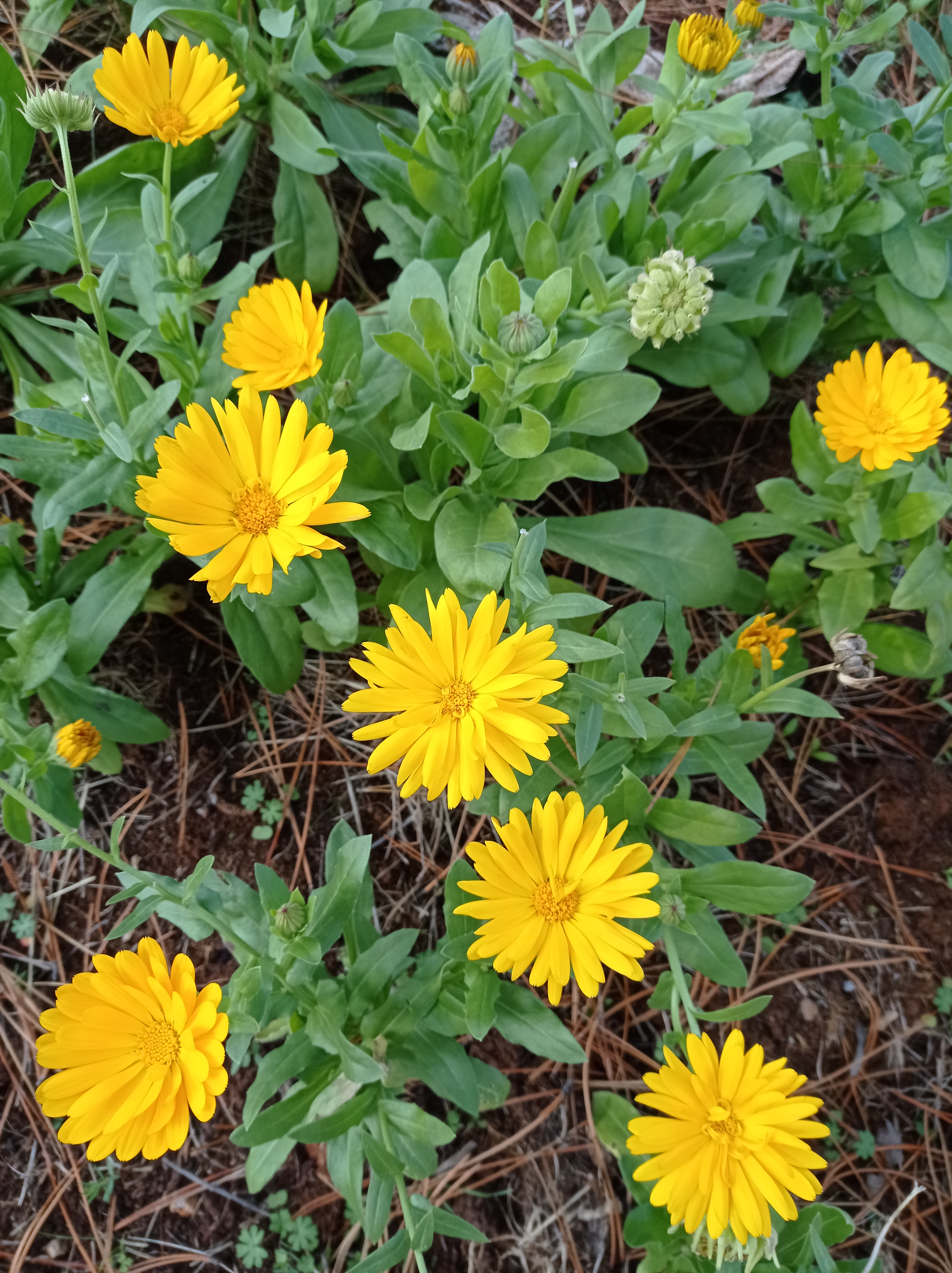 In the landscape context, Calendula is often grown in polyculture gardens because it's useful in repelling unwanted insects, but great at attracting beneficial ones, plus it works to protect and enrich the soil. Since it has thick, fibrous roots and grows in thick patches, it can be used as a cover crop or as a living mulch to protect the soil, while adding nutrients to it. By planting Calendula in the first season of the garden, I create the conditions for bringing more biodiversity in the future, when we will plant different plant medicinal species each year, on the 6th of April - Day of Sarajevo.

our family garden I
PERSONAL FAMILY HISTORY
Our Family Garden II was created after Our Family Garden I; a personal performative action within which my grandmother, my mother, and me — dig and plant seeds of wheat inside of war trenches which my grandfather has been digging and using (1992-1995), while he was on the first line of defense of our city during the siege. Through the action of digging, we connect with our personal family history carried by my grandfather, who was digging these trenches during the siege of Sarajevo. On the other side, by the action of planting wheat - we are allowing the soil to regenerate and prepare it for planting of the 1000 Calendulas, in the second part.
More information in the Online Artist Talk for Kuma International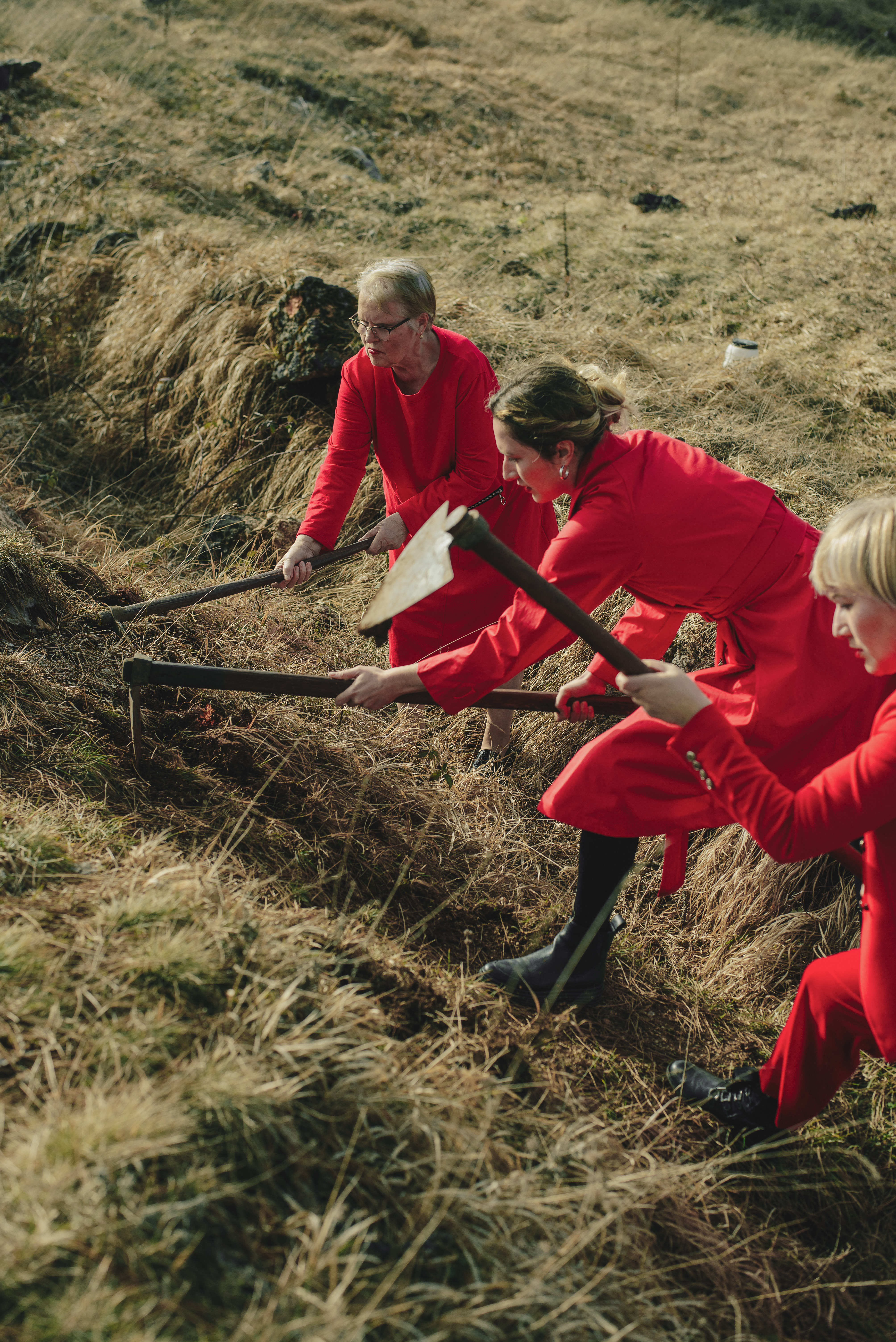 Studio Smirna Kulenovic 2021 / All Rights reserved
---