1. Bosnian Girl 2

Smirna Kulenović / 2017
Bosnian Girl 2; Performative action
Photograph by Simone Morciano


"Bosnian Girl 2" by Smirna Kulenović is a performative action that took place in front of the EU Delegation to Bosnia and Herzegovina building in Sarajevo on 22/11/2017, the day when the late verdict for the war criminal Ratko Mladić, responsible for genocide in Srebrenica— was delivered by the UN Tribunal.

More than 8000 People were brutally murdered in one single day during the genocide in Srebrenica, Bosnia and Herzegovina, 1995. The work "Bosnian Girl 2" holds a reference to the poster "Bosnian Girl" by the Bosnian artist Šejla Kamerić in 2003.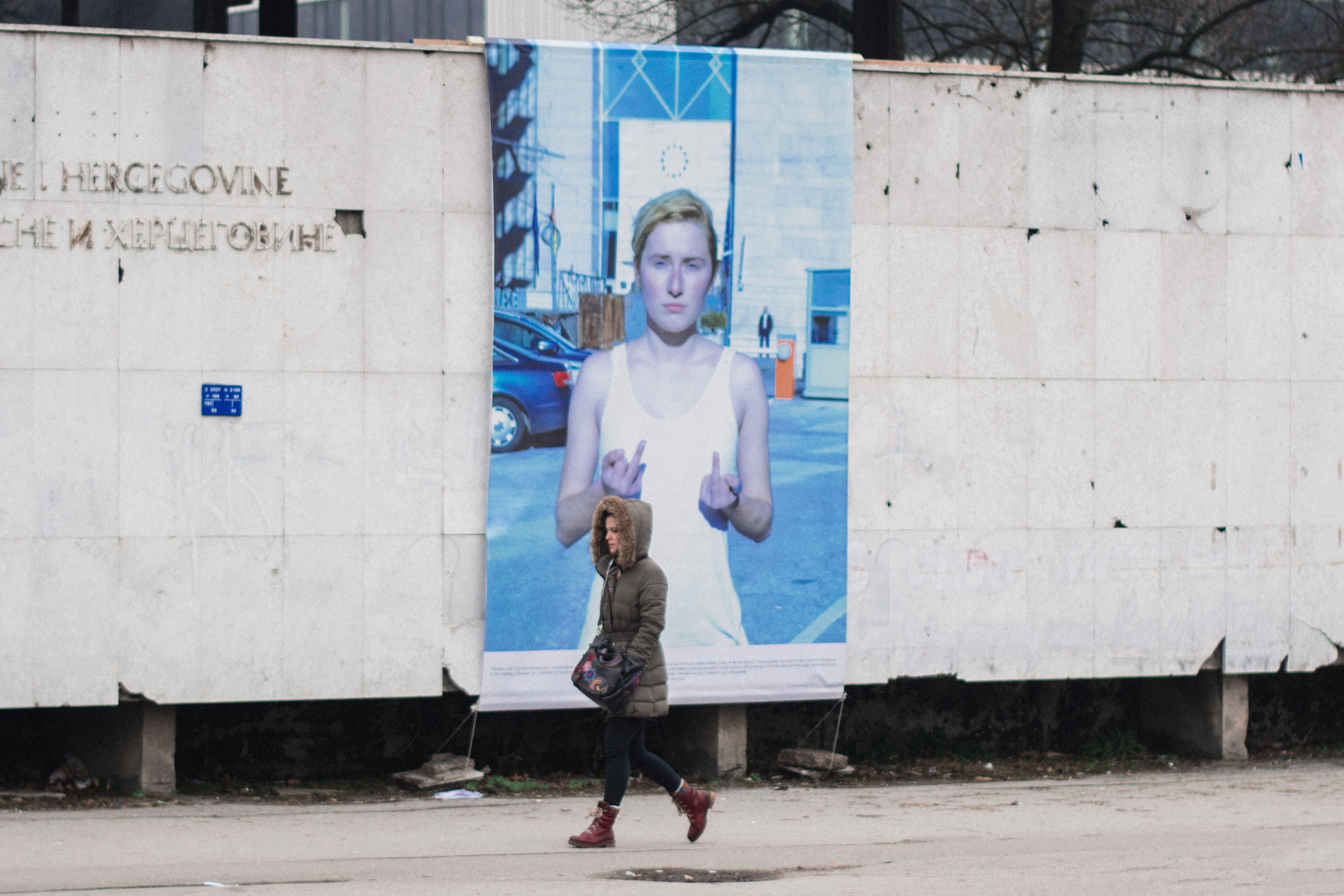 "Bosnian Girl 2" has been

performatively placed

over the facade of the Museum of History of Bosnia and Herzegovina, where it remained exhibited during February 2018.

The work is a part of the collection of the most significant post-war bh. contemporary art "The Sarajevo Storage" by Pierre Courtin, and has been exhibited both regionally and internationally; including the Museum of History of Bosnia and Herzegovina, National Gallery of Bosnia and Herzegovina, Museum of Contemporary Art Zagreb, Royal Institute of Arts Stockholm, Festival FK:K Bamberg, Mainoeuvre Gallery Berlin, Art Fair Tblisi,...




I was born in the war. That means you label me as a post-war context from a third-world country. I don't remember "better times", as most of you do. I have nothing to compare to, nothing to feel nostalgic about. And I have no patience.

I have no patience for waiting for international courts of justice to tell me what justice is about.
I have no patience for your judge to state "not enough people were killed to call it a genocide".
I have no patience for teachers telling kids how the war is a lie and "videos show fake dolls without legs and red paint."
I have no patience for highest courts of justice to examine if videos show fake dolls without legs and red paint. I have no patience for brave war heroes.
I have no patience for verdicts.
I have no patience for brave war heroes drinking poison on the day of their verdicts.
I have no patience for brave UN soldiers. Who did what they could.
I have no patience for telling I have no patience for smelling
Mass graves.
I have no patience for memorizing European values.
I have no patience for being Bosnian Girl 2.
I have no patience for cities, countries, politics, economy.
I have no patience for nationalism and ideology.
I have no more 20 years to wait for anything.
I have wasted more than 20 years waiting for everything.
I have no patience for democracy.
I have no patience for Europe to tell me how to fix my non-EU identity.
I have no patience for your hairdressers shock of my hair being blond and my grandma Muslim.
I have no patience for non-violent philosophy.
I have no patience for your democratic right-wing Party.
I have no patience for my Security Check Nudity
I have no patience for contemporary art as
Fashion accessory
I'm poor because I have no patience for money.


Fuck your VISA and your 3D renderings.


I have no more patience for you.




Bosnian Girl 2 - Artist Statement

During Art Fair Tbilisi, the work has been exhibited as a performance

"You're Doing Great!!!"