1. 77 h
Smirna Kulenović / 2018
Performance; 77 hours @ Museum of History of Bosnia and Herzegovina


"Based on the flow of time, this minimalist act of staying in a contemplative state explores the interaction between evolutionary technology and processability as the basis of human perception when dealing with trauma."


"77" is a though-based performance that I've conducted in a time flow of 77 hours without ceasing, at the closing of Brian Eno's installation "77 million paintings" in the Museum of History of BiH (from Sunday 08.26.2018. @ 14h to Wednesday 29.08.2018. @ 19h).

Museum of History of Bosnia and Herzegovina is the only institution exhibiting the complete archival art materials from the siege of Sarajevo. For every citizen of Sarajevo, it represents the most difficult collection to witness and remember. Brian Eno has chosen this Museum to be the place of installing his work "77 Million Paintings".


Smirna Kulenović / 2018
Performance "77", Photo by Kanita Polimac

"I've decided to stay in a contemplative state of dealing with our collective history full of death and terror, while trying to connect to a possible, generative future. This has led me on a journey of 77 hours without leaving the installation and documenting my thought process every hour through

Instagram Stories

, while encouraging other citizens to join me, in the real or digital space."


The audience from Sarajevo interacted with me both digitally and in real life during the performance, and started using the Museum as a new space of contemplation - even supporting me by staying inside longer than usual and discussing topics about

a new possible "generative" future

of Bosnia. On the other side, there was also an international audience interacting with me digitally, sending me their thoughs and support through Instagram. In the end, Brian Eno stated that this was a World Record - The longest stay inside his art installation, ever to be conducted.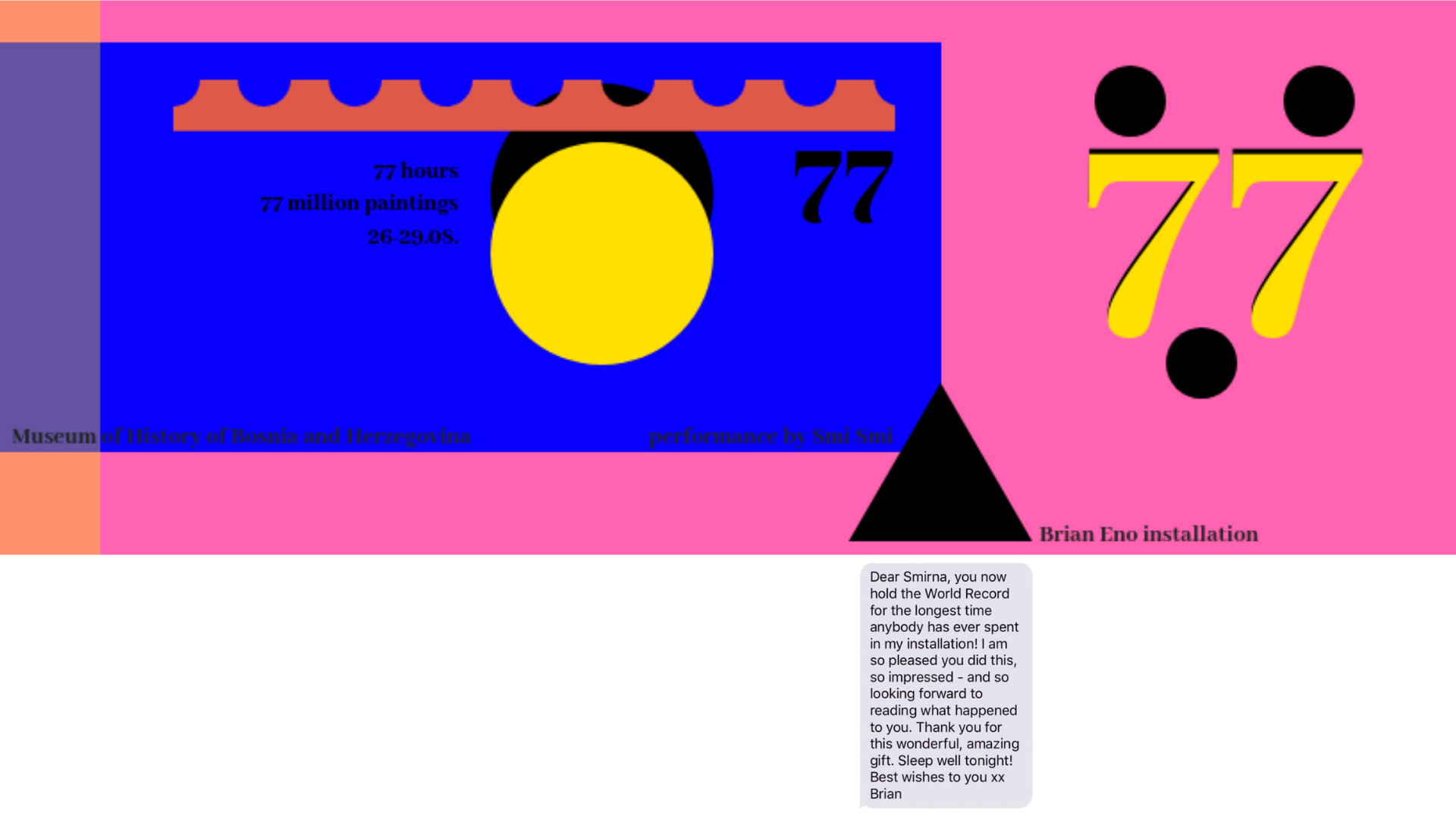 Smirna Kulenović / 2018
Instagram Stories "77"