SELECTED WORKS
Our Family Garden II
2021

"Our Family Garden II: Prva Ženska Linija"
is a collective ritual of Landscape Restoration, directed by Smirna Kulenovic.
It involves 100 female participants, who together planted 1000 medicinal calendula plants in the abandoned war trenches on the edges of Sarajevo (Zlatište, Federation of Bosnia and Herzegovina)."
Zlatiste war trenches were abandoned since the siege of Sarajevo (1992-1995).
This artistic ritual has been directed by Smirna Kulenovic, in solidarity with all the lives that have been disturbed or lost due to acts of war and environmental violence, across the planet.
Camera:
Tatjana Nikolic
Nedim Karalic
Fabricio Lamoncha

Editing: Smirna Kulenovic
Artistic Research / Project Details
Artist Talk / Youtube
OUR FAMILY GARDEN
Participative Interspecies Performance
2021

My grandmother, my mother, and me — planting seeds of wheat inside of
war trenches
which my grandfather has been digging and using (1992-1995), while he was on the first line of defense of our city during the siege.
My grandmothers' house, where I've lived with my family during the war, is just a 5 minutes walk from this location. During all 4 years of the
siege of Sarajevo
, my grandfather went up to these trenches to defend the city, as well as us. These trenches were also the first "picnic" spot of my childhood, where my grandmother used to take me out, right after the war ended. This location is still
forgotten, abandoned
and stands haunted by stray dogs, marking another invisible monument.
*
Zlatište is a hill above my hometown (Sarajevo) where the first line of defense of the city was placed during the war. Civilians, quickly trained to become over-night soldiers have built improvised shelters by digging holes in the ground and making trenches while trying to defend the city with self-organized and improvised munition.
This is my attempt to create
a living monument
, which will soon be extended into Part 2; A participative
eco-social
artwork with 100 women planting new seeds in the trenches through the entire line of defense.
Photo Documentation:
Ajla Salkić
Artist Talk / Youtube
MOLGO ARR!
Participative Interspecies Performance, Workshop
2021
MOLGO ARR! explores ways in which we can harmoniously co-habit public spaces with human and non-human lifeforms, by using speculative embodied interspecies communication methods.

The starting point of this research was the "Third Landscape" of Vimercate - river Molgora, and its inhabiting species. The artist, together with the workshop participants – invents new methods of "walking with" the river, visualizing and sonifying new languages which help to create relationships with insects, plants, animals, rocks, minerals, water, bacteria,…

This project is a result of the artistic research done within the V_AIR Residency, through participative workshop processes I´ve led with 9 highschool-aged participants from Vimercate (IT). The research happened immediately after the end of the strict public space regulations related to COVID - in June, 2021.

Photo Documentation:
Smirna Kulenovic

The full documentation of the workshop and research process can be found here. Materials collected during this research served as a database for the creation of A.I. Visualisations, used in the final video installation in MUSEO MUST (IT), Tarot of Postcapitalist Desire.

UMWELTS
Participative Interspecies Performance
2021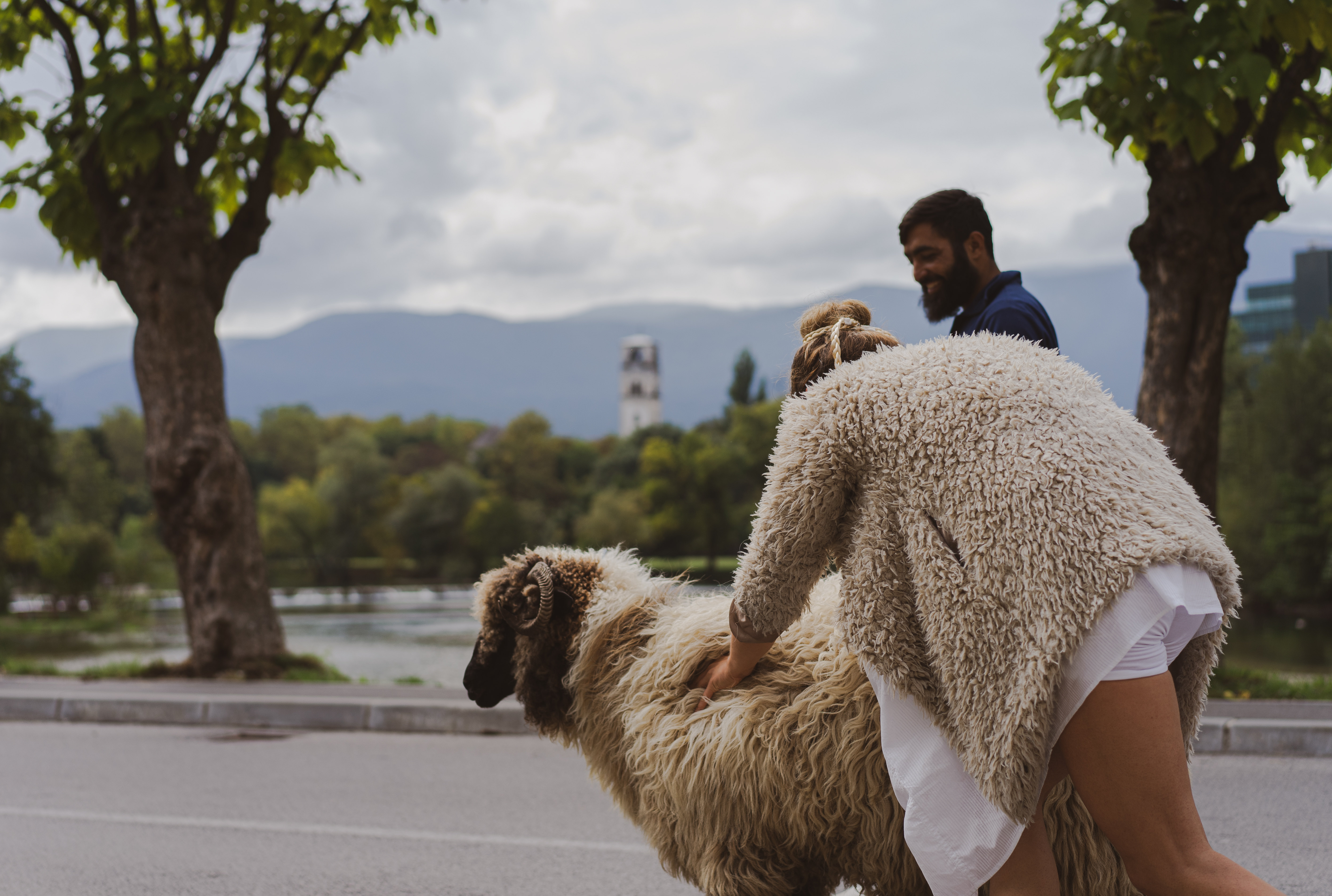 UMWELTS is a spontaneous performative walk of the artist together with a sheep through the Bihać city center (Bosnia and Herzegovina). Embarking on an experimental urban journey in which, together with the sheep, the artist makes decisions by negotiating which spaces they want to explore and visit - the artist creates a series of unpredictable relationships and different encounters which include other types of organisms (human and non-human) within a given space.

This project is a result of the artistic research done within the KRAK Art Residency, located in Bihac, Bosnia and Herzegovina (border with EU). Bihac is a city undergoing a large migrant crisis, with an ongoing debate over freedom of movement or life dignity for human agents belonging to non-European cultures.

Photo Documentation:
Mehmed Mahmutovic

*Using the title UMWELTS, the artist refers to the biologist Jakob von Uexküll (1864–1944) who defined this term as a designation of a specific physical, emotional and semiotic environment in which an individual and any other species live and work.

**The artist focused on the topic of Pastoralism in old Balkan cultures, and migration routes of nomadic shepherds which crossed Bihac, until its industrial urbanization.